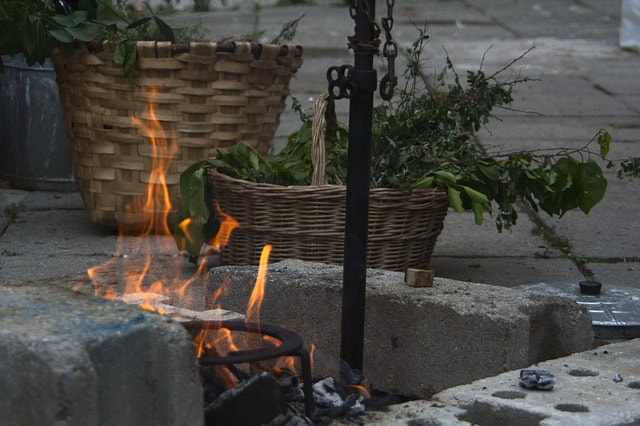 ​I'm pleased to announce that, after months of hard work by Philip and Carrie, with input from ourselves and the Principal, the book "Round About the Cauldron Go…" has now been completed and finally published. This book is the Grimoire of Coven of the Scales and, as such, will only be made available on a very limited basis to a few members of our coven. Here is a short extract to give some background to our practices at this time of year and we will be publishing short extracts each month throughout the year.
I'd like to take this opportunity to thank Philip and Carrie for their dedication and commitment.
James Rigel,Magister,
NOVEMBER:Herbist-mānod - 'autumn month' with Hallowmas/Martinmas/Old Samhain
Also known as Blōt-mōnaþ 'Blood Month' or 'Month of Sacrifice', November was the start of Samhain when surplus livestock would have been killed and the meat salted down for use over winter. There is evidence it has been an important date since ancient times and is a Gaelic festival marking the end of the harvest season and the beginning of winter, or the 'darker half' of the year. Throughout the centuries, pagan and church celebrations have gradually become intertwined and from 31st October through to 2nd February the calendar is particularly confusing.

All Hallows or Hallowmas according to the church calendar was the time when ghosts roamed abroad and is a contraction of All Hallows' Eve that begins the three-day observance of All-Hallows-tide in the liturgical year dedicated to remembering the dead. It is evident that many Hallowe'en traditions have pagan roots and originated from Celtic harvest festivals, particularly the Gaelic festival Samhain; this festival was much later Christianised as Hallowe'en and is now one of the most popular secular holidays in the USA! Personally, we do not consider 'trick and treating' a suitable way of observing this 'festival of the dead' and actually find it offensive.

Whereas the Day of the Dead (Spanish: Día de Muertos) a widely celebrated Mexican festival, involves a multi-day holiday with family and friends gathering to pray for and remember those who have died, and to help support their spiritual journey. In Mexican culture, death is viewed as a natural part of the human cycle and the day is viewed not as a day of sadness but as a day of celebration because their loved ones awake and celebrate with them. The celebrations developed from ancient traditions among pre-Columbian cultures and rituals celebrating the deaths of their ancestors had been observed by these civilizations perhaps for as long as 2,500–3,000 years!

Altars with offerings (called ofrendas) are common at the cemetery and are right over where the deceased has been laid to rest. After all, the purpose of the Day of the Dead is to honour family members who have passed and for living family members to use this opportunity to ask them for their guidance by appealing to their good nature with offerings like food, drinks, items of personal significance and anything else that they might enjoy on the other side. This event is characterized by a festive atmosphere that's charmingly cultivated with musicians, tasty seasonal foods and a fair amount of alcohol to encourage positive spirits! As such, Day of the Dead traditions are close to many people's hearts because the idea is to make the spirits comfortable and welcomed during their short visit. Perhaps we should take a leaf out of their book instead of the austere 'Dumb Supper' that's part of our Tradition.

Within Old Craft this is the winter season that traditionally runs from about halfway between the Autumn Equinox and the Winter Solstice. It is one of the four Gaelic seasonal festivals, along with Imbolc, Beltaine and Lughnasadh. Historically, it was widely observed throughout Ireland, Scotland and the Isle of Man, while similar festivals were held at the same time of year in other Celtic lands; for example the Brythonic Calan Gaeaf (in Wales), Kalan Gwav (in Cornwall), and Kalan Goañv (in Brittany).

'The Festival is mentioned in some of the earliest Irish literature and many important events in Irish mythology happen or begin on Samhain. It was the time when cattle were brought back down from the summer pastures and when livestock were slaughtered for the winter. As at Beltaine, special bonfires were lit, which were deemed to have protective and cleansing powers, as were the rituals surrounding them. Like Beltaine, Samhain was also seen as a liminal time, when the boundary between this and Otherworld could more easily be crossed.
This meant the Aos Sí, the 'spirits', could more easily come into this world. Most scholars see the Aos Sí as remnants of the pagan gods and nature spirits, and at Samhain it was believed that the Aos Sí needed to be propitiated to ensure that the people and their livestock survived the winter. Offerings of food and drink were left outside for them. The souls of the dead were also thought to revisit their homes seeking hospitality. Feasts were held, at which the souls of dead kin were beckoned to attend and a place set at the table for them at a Dumb Supper. [Britannica]

In CoS we observe Old Samhain/Calan Gaeof on the 11th November [Old Calendar] so that it also coincides with Remembrance Day - better known since 1918 as Armistice Day, and as the time to remember the war dead and the Ancestors – today we wear our poppy with pride. Never more so does kindred call to kindred, blood call to blood. Much has been written about the Ancestors but nowhere better than in our Principal's contribution to the Three Hands anthology, Hands of Apostacy – 'Spirits & Deific Forms: Faith & Belief in British Old Craft' – an extract of which is reproduced here with her kind permission:

The most powerful energy on which an Old Craft practitioner can call, however, is that of our 'Ancestors', who represent our culture, traditions, heritage, lineage and antecedents; they trace the long march of history that our predecessors have taken under the aegis of traditional British Old Craft. When those of a particular Tradition pass beyond the veil, their spiritual essence merges with the divine spirit of the Whole, which in turn gives traditional witchcraft the continuing power to endure – often past its own time and place in history. If when living, we cannot acknowledge and respect the Ancestors of traditional British Old Craft to which we claim to belong, then we will contribute nothing to the Whole when we die.

Interaction with these ancestral spirits as an invisible and powerful presence is a constant feature of traditional British Old Craft, with the Ancestors remaining important members of the Tradition or people they have left behind. In general they are seen as Elders, treated and referred to in much the same way as the most senior of living Elders of a coven or magical group, with additional mystical and magical powers. Reverence for our Craft Ancestors is part of the ethic of respect for those who have preceded us in life, and their continued presence on the periphery of our consciousness means that they are always with us. And because traditional witchcraft is essentially a practical thing, the Ancestors are also called upon to help find solutions to magical problems through divination, path-working and spell-casting

In other words, our dead are always with us and when we channel the rejuvenating power into the Coven's mind-set, we are imbuing the group and its members with the strength and magical energy of all those centuries of ancestral influence. In fact, these are the ancestral properties we call upon to consolidate the energy required in spell-casting and invocation, rather than what others may see as the beneficence of deities, angels or spirits. And, we re-affirm this allegiance to this sacred past each time – and to each other - whenever we perform a seasonal rite that includes the breaking of bread and taking of salt – either singly or in a group.

The sharing of bread and salt re-appears in several Slavic and other European and Middle Eastern cultures whereby in turn, the members of the party carefully break off a piece of the bread, dip it in the salt, and eat - this is a sign of the bond that has been forged between the participants … and to betray that bond is an act of base treachery. No words are spoken or oaths taken but the act is, of itself, a pledge of fealty, honour and respect just as in Rosemary Sutcliff's historical novel Outcast, bread and salt is referred to as a sign of belonging to a tribe: 'You are my people, my own people, by hearth fire and bread and salt'.

It should therefore, perhaps, seem incongruous that our motto is: Trust None! However, contrary to what many so-called modern witches profess in their maxim of 'Perfect Love – Perfect Trust', it should also be understood that there is an older system of Craft that has never left the shadows, and which has its roots in the pre-repeal of the Witchcraft Act of 1951. These groups have never
been part of the publicity machine to popularise Craft, and have always muttered darkly that the mass publicity of the last thirty years would destroy Craft – not preserve it. In all honesty, there is little altruistic about Old Craft. It can best be described as having a tribal mentality in that it believes in protecting its own, but with no obligation to mankind in general. In view of the periodic (and often inter-Craft) backlashes, even in more modern times, it is not surprising that Trust None! is the creed of Old Craft and it has preserved its secrecy down through the years by not divulging its rites and practices.

The Ancestors act as Coven guardians and also channel the god-power in a two-way conduit, for it would be too hazardous to allow a direct current to pass between supplicant and benefactor. This shield can also act as a safety-barrier for any deific displeasure we may inadvertently attract by behaving inappropriately, i.e. ignoring or disobeying the rules. It guards us from infiltration by outsiders who would join our ranks in order to acquire secret information or cause damage. And, it warns when our own are wavering and likely to fall prey to indiscretion and flattery. It also means that once we are permanently linked to this power, we don't even have to think about it in order to tap into it. This is what it means to be an Old Craft witch

Needless to say, it may take many years of practice until this conduit becomes automatically open for us but ancient cultures understood that we live in a vast 'sea' of cosmic energy. They taught that everything animate and inanimate has consciousness and channels this energy, according to its individual capabilities, to help facilitate this essential universal dialogue. Ancestral communication is the highest form of spiritual channelling that comes from a strong, deep and pure connection with the Ancestors themselves and, through the Ancestors, with the Divine.