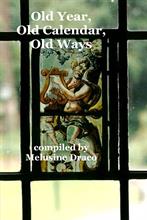 Creating A Magical Link to the Old Beliefs
Compiled by Melusine Draco
"The most effective way to destroy people is to deny and obliterate their own understanding of their history."
George Orwell

Like Topsy, the idea for Old Year, Old Calendar, Old Ways, just 'growed' – and kept on growing. Originally it was just a basic calendar with entries relating to the Old Ways in keeping with the Old (Julian) Calendar in order to create an important magical link with the past. Once the bulk of the entries were in place, however, it quickly became evident that many of these old festivals, celebrations and observances required some sort of explanation, since a large number of people have lost touch with their ancient heritage.

As most of my readers will know, I have a fascination for odd and obscure historical facts that are hidden away in the millions of sources that outstrip and confound the confines of the Internet – it's finding them that presents the stimulation and the challenge. If we merely rely on the regurgitated information of contemporary paganism not only does our mind become stagnant, but for those who follow the Craft of the witch, so do our magical abilities. For example did you know that in the 1770's red-headed women, especially those with very white skin, were still considered likely to be witches?

"This belief was utilised in Christopher Fry's play, The Lady's Not For Burning. It is also worth noting that … in the Middle Ages it was associated with witchcraft and women were arrested for its use. In fact, this notion continued as late as the sixteenth and seventeenth centuries, and any woman who altered her appearance was considered to be practising witchcraft and was, therefore, subject to arrest. An Act of Parliament of 1770, as cited in The Magic of Herbs by Mrs C F Lyell, states: 'That all women of whatever age, rank, profession or degree, whether virgin maid or widow, that shall from and after such Act impose upon, seduce and betray into matrimony any of His Majesty's subjects by means of scent, paints, cosmetics, washes, artificial teeth, false hair, Spanish wool (red wool for painting the face), iron stays, hoops, high-heeled shoes or bolstered hips, shall incur the penalty of the law now in force against witchcraft and like misdemeanours, and that the marriage upon conviction shall stand null and void.'" [Earth, Air, Fire Water]

Admittedly, even Craft can become mind-numbingly boring if we merely follow exactly what it says in the text and not bother to expand our knowledge by getting to grips with the history behind it all. For there are still experienced witches who will have a hissy-fit if Christianity is brought into the equation, never stopping to think that paganism and the early Church existed in peaceful harmony for hundreds of years. The 'conversion' was a slow, absorbing process where churches were built on sacred sites, local deities and heroes became saints, and the old agrarian festivals provided the basis for the original Church calendar. In other words, nothing had changed and it explains why witches of the old school often use references to the Church calendar rather than the Celtic names for the seasons and festivals of the year. If we learn how to look behind the Church litany we will find that it preserved far more than it ever destroyed. In reality, the early Church in the British Isles was far more pagan than anyone likes to admit.

Over the years I have also incorporated a great deal of folk and country lore into my books on witchcraft with a view to preserving the knowledge for future generations. Much of what even my grandparents' generation once knew is now lost because it was never recorded for posterity. True there are numerous pagan books written about similar subjects but it is obvious that a large number of them don't have the countryside in their blood and fail to reflect the magic and mystery of growing up in an uncomplicated rural environment. Strangely enough, these sentiments are often now viewed as some form of elitism but I prefer to go back to the roots of learning rather than consult something that has been cobbled together from different popular titles without any true grounding in country lore. As J Harvey Bloom comments in Folk Lore in Shakespeare Land:

"The year was marked in our forefathers' time by somewhat rare days when the whole village made holiday. It is true the rejoicings were more hearty than refined, but they were honest and real, looked eagerly forward to, and talked of when long past. The great feasts of the church's year combined revelry with religion, and dated back to the Sun festivals if remote antiquity."

Similarly, the further we move away from these Old Craft traditions we also cast aside the magical ties and techniques that have fuelled us down through the years. And yet there are time-honoured things about us all as individuals that are bred deep in the bone. We are what our roots (DNA) claim us to be and we cannot escape those racial memories of where we came from even if the descendants of yesterday's witches are now scattered all over the globe. In truth, there is no such thing as Scottish, Essex, Yorkshire, Cornish or Lancashire witches because all individuals are identified by the location in which they lived their early lives and a witch will still reflect the region dialect, customs and superstitions of his or her original neighbours, no matter how far we travel. For example: I am Anglo-Welsh, living my life between rugged mountains and the central English Shires. I therefore reflect the characteristics of the Welsh and the natives of the Bucks/Northants borders but this does not make me a 'Welsh' or 'Catuvellauni' witch! Nevertheless, many years down the line I still retain many of the influences, colloquialisms, customs and traditions from the past – many of which have been incorporated into my personal Craft working and those teachings of Coven of the Scales which actually originated in Cheshire!

We need to understand that the Old Ways or the Old Religion were echoes of the pre-Christian faith, and that these old beliefs provided the energy that the clan or tribal shaman or witch drew upon to work their magic. It generated a certain dynamism that powered the magic of the day, and while all of the rural populace would have been followers of the Old Ways, not everyone was a magical practitioner. Nevertheless, every village would have had its own wise woman who was well versed in the arts of folk-medicine and fortune-telling. It is not surprising, therefore, that Shakespeare should have made frequent illusions to this popular belief, considering how extensively it prevailed in the 16th and 17th centuries; the religious and dramatic literature of the time being full of it. It was only to be expected that Shakespeare should introduce into his writings descriptions of a creed which held such a prominent place in the history of his day. [Folk-Lore in Shakespeare]

In T A Spaldings's essay Elizabethan Demonology (1880), however, it was suggested that the 'weird sisters' who play such an important part in Macbeth, are not witches at all, but are 'allied to the Norns or Fates of Scandinavian paganism'. Another writer in the Academy (1879) believed that Shakespeare drew upon Scandinavian mythology for a portion of the material he used in constructing these characters, and that he derived the rest from the traditions of contemporary witchcraft; that the 'sisters' were hybrids between Norns and witches.

It is also interesting to note that almost all the charms and symbols supposed to guard against witchcraft in those tedious Victorian folklore compilations, or cunningly concealed in the texts as 'love spells', are those that the witches themselves used and revered in earlier times. And that is why the popular literature of the time and the archive of the Folklore Society should be on every witch's essential reading list, since here we find all those old observances of our ancestors, hidden under a thin veneer of later 'respectability' and where anything that smacked of paganism was immediately labelled 'devilish'. If we learn to strip away the various layers we are still left with the priceless patina of Old Craft belief and the original calendar against which it was practiced by our ancestors.

Currently, Twelfth Night is celebrated on the 5th January, as the last day of the Christmas season and the night for Wassailing, together with the removal of the Yuletide decorations. There can be no doubt that the title of Shakespeare's play Twelfth-Night took its origin from these festivities, although according to Folk-Lore of Shakespeare, the play was probably originally acted at the barrister's feast at the Middle Temple on 2nd February [Candlemas] 1602: 'It is worthy of note that the festivities at Christmas-tide, were conducted on a most extravagant scale. In addition to the merry disports of the Lord of Misrule, there were various other revels and the Christmas masque at Gray's Inn in 1594 was on a magnificent scale.'

Traditionally, the Wassail is still celebrated on Twelfth Night while others Wassail on 'Old Twelvey Night' – 17th January – as it would have been before the introduction of the new calendar. Robert Herrick's poem, Twelfth Night or King and Queen reflects the gaiety of the occasion:

NOW, now the mirth comes
With the cake full of plums,
Where bean's the king of the sport here ;
Beside we must know,
The pea also
Must revel, as queen, in the court here.

Begin then to choose,
This night as ye use,
Who shall for the present delight here,
Be a king by the lot,
And who shall not
Be Twelfth-day queen for the night here.

Which known, let us make
Joy-sops with the cake ;
And let not a man then be seen here,
Who unurg'd will not drink
To the base from the brink
A health to the king and queen here.

Next crown a bowl full
With gentle lamb's wool :
Add sugar, nutmeg, and ginger,
With store of ale too ;
And thus ye must do
To make the wassail a swinger.

Give then to the king
And queen wassailing :
And though with ale ye be whet here,
Yet part from hence
As free from offence
As when ye innocent met here.

In the cider-producing West of England (primarily the counties of Devon, Somerset, Dorset, Gloucestershire and Herefordshire) 'wassailing' also refers to drinking (and singing) the health of trees in the hopes that they might better thrive. The purpose of wassailing is to awaken the cider apple trees and to scare away evil spirits to ensure a good harvest of fruit in the following autumn. Then, the assembled crowd would sing and shout and bang drums, or pots and pans, and generally make a terrible racket until the gun-men gave a great final volley through the branches to make sure the work was done and, then off they went to the next orchard. Chinese crackers, or even party poppers, will suffice if you haven't got a gun licence. Here is an extract from Robert Herrick's The Wassail:

Give way, give way, ye gates and win
An easy blessing to your bin
And basket, by our entering in.

May both with machete stand complete,
Your larders, too, so hung with meat,
That thou a thousand thousand eat,

Yet ere twelve moons shall whirl about
Their silvery spheres, there's none my doubt
But more's sent in than was served out …

The 'Ashen Faggot' is another archaic West Country custom that still survives in country pubs where the burning takes place on Christmas Eve – or the 5th and 17th January which are Old Christmas Eve and Old Twelfth Night respectively. This is a large log with withies bound around it to make a bundle which is burned indoors in a large hearth. Drinks are consumed as each withy breaks in the flames, which just sounds like an excuse for conviviality! For Craft observances it could also be used as part of the Twelfth Night celebrations, especially if we have an outside fire pit or patio burner.

For this reason, it's a good idea for any coven to hold Old Twelfth Night observances in order to acknowledge the end of the Mid-Winter Festival with true medieval gusto. Ideally, a fancy dress party would seem to be the order of the day, but how long our Mid-Winter revels last will, of course, depend on how much time we have off work during the party season and our personal stamina! If not partying, light the fire and drink a toast to the Old Ways and the Ancestors on this old Twelfth Night, or observe it by watching one of the many DVD versions of the Shakespeare play.

The January Esbat would normally be held at a Crafter's home in the form of an ordinary party where Craft symbology can be subtly introduced without 'outsiders' being any the wiser. After all, everyone will be suffering from a surfeit of celebration and these days, not many know much about Old Twelfth Night, but in the medieval and Tudor periods, it was more important than Christmas Day. In English and French custom, the Twelfth-night cake was baked to contain a dried bean and a dried pea, so that those who received the slices containing them should be respectively designated king (bean) and queen (pea) of the night's festivities - which is obviously a throw-back to the ancient concept of the Lord of Misrule.

A tradition held in Georgian times, the Twelfth Night cake celebrated the last day of the festive season on 5th January when there were great feasts, of which cake was an essential part. A rich crumbly fruit cake, sumptuous icing and a classic design makes a marvelous Twelfth Night Cake [Mrs Beeton's Everyday Cookery] with this trusted family recipe.

6 oz butter
3 oz brown sugar
3 eggs
½ gill milk (2.5 fluid oz)
1 level teaspoon bicarbonate of soda
2 oz treacle
4 oz currants
4 oz sultanas
4 oz mixed peel
½ level teaspoon ground cinnamon
½ level teaspon mixed spice
3/4lb plain flour
¼ teaspoon salt

Line a 7-inch cake tin with greaseproof paper. Cream the fat and sugar in a bowl and gradually beat in the eggs. Add the milk in which the soda is dissolved; stir in the treacle and beat well. Add the prepared fruit and spices. Sift in the flour and salt and mix lightly. Put into the tin and bake in a warm oven (335F, 175C, Gas 3) for 2-2 ½ hours. The dried pea and bean should be baked in the cake. And any silver charms should be wrapped in greaseproof paper.

Liven up the rooms by adding some sparkle to the existing decorations that will be looking very tired by now, throw some gold streamers on the tree and around the house before everyone helps take the decorations down. Be aware that guests will be tired of eating rich, heavy foods by early January, so light appetizers should be welcomed at our party. Most large supermarkets have 'party boxes' with a wide assortment of finger food, so stock up the freezer well in advance. Coven members can contribute to the event by bringing plates of finger food, such as cocktail sausages and mini sausage rolls, canapés, vol-au-vents together with crispy salad assortments. Think in terms of picky bits that can be kept in plastic containers to keep in hand for livening up the buffet table throughout the evening.

Like all Craft elements we have to be careful of how we dispose of anything used in ritual observances. Whichever day is chosen for the removal, there is still the vital question of how to dispose of the Yule evergreens. In The Penguin Guide to the Superstitions of Britain & Ireland, the author and folklorist Steve Roud, records that although there appears to be no discernible regional pattern to explain the different superstitions, in some places it was considered unlucky to burn Yuletide evergreens. It is interesting, however, that the anti-burning appears to date from c1866, while there are references that mention burning Yuletide greenery right back to the 11th century. This suggests that burning was indeed a pagan custom. As witches, however, we can cut the tree into small pieces and burn it on an open fire – indoors or out – and enjoy the smell of pine being released into the air over the coming weeks.

From the Winter Solstice to Old Twelfth Night, the tide begins to turn and the Earth's natural cycle begins to move again; the days grow noticeably longer and the Earth-tides grow stronger. Whether we observe the Julian or the Gregorian calendar there is an upbeat feeling to the start of the New Year, but make sure that a thorough banishing and cleansing of your home is carried out on the day following Twelfth Night to remove any negative psychic energies that might be lurking about. Prepare an appropriate infusion spray a day in advance and keep it in the fridge until the house has been cleared of all of the previous year's negativity (and people) and spray from top to bottom.
Old Year, Old Calendar, Old Ways
– Melusine Draco
ISBN: 9781788762052 : Paperback : Pages 210 : £8.9
To order:
https://www.feedaread.com/books/Old-Year-Old-Calendar-Old-Ways-9781788762052.aspx