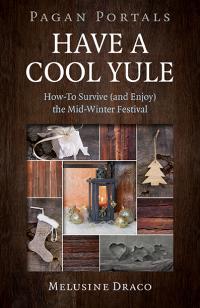 How to Survive (and Enjoy) the Mid-Winter Festival
​
With all the doom, gloom and despondency surrounding the Christmas planning for this year, it might be the perfect time to take a leaf out of the dining table and start preparing a pared-down pagan Yule. Whether 'bubbling' or 'cocooning', there's no reason to let the 'virus' stop us from enjoying ourselves and observing the festival as one of celebration and good hope. In order to run smoothly, our pagan Mid-Winter Festival/Yule needs to be planned well in advance and not be spoiled by any last-minute disasters. A bit of organisation goes a long way so start by making lists to cover all aspects of the festivities – guests, gifts and gormandising.

If, on the other hand, we've decided to spend the Mid-Winter Festival/Yule alone, then the same rules still apply. It can be rather daunting to actually plan for a solitary Yule, but since the whole focus of the holiday is usually getting together with those close to you – and if those people can't be around this year - then the exercise may seem pointless. My advice is stock up with all your favourite treats, a good selection of DVD boxed sets, and treat yourself to a disgustingly expensive Yule gift – mine for this year is a vintage Aquascutum duffel coat!

The solitary life-style is amplified at this time of year and all the hype that is geared around spending time with family often creates the impression that if we're not part of the glamour then we're nothing but a sad git! There's a vast difference, however, between being alone and being lonely. And although outsiders might think it a bit strange, the company of a cat or dog means that there's someone in the home to talk to and snuggle up with, and discuss what we're going to watch on telly – just as we've done throughout the lockdowns.

Strangely enough, it is Christianity itself that has made a mockery of 'Christmas' and turned it into the commercial free-for-all we know today. What is sad, is that a large number of pagans in rejecting the whole concept of Christmas are, in fact, rejecting the ancestral concept of Yule. So, lets us reclaim the Mid-Winter Festival with all its 'warmth, light and revelry' and celebrate it in time-honoured fashion without the commercial overtones – even if we have to do it alone this year.

"As per usual and in great style, Mélusine Draco presents a wealth of information about this historically proven pagan festival. Whichever way the reader chooses to celebrate...whether it's a traditional family Christmas or a traditional Yule in the company of pagan friends or as a solitary – there is something for everyone. From a complete festival calendar with some simple rites and symbolism, to carol lyrics, recipes, gift ideas and feasting to the 'art of using up' and festive games; everything Yuletide is covered. And with generous doses of light-hearted good cheer and a sprinkling of dark humour, the author strikes a balance that is both useful, informative and entertaining. A charming little book."
Sheena Cundy, Witch Lit author The Madness and the Magic

"Have a Cool Yule is a lovely guide on how to truly enjoy the festive season in the depths of winter, whether you call it Christmas, the Winter Solstice, Yule or any other name. In the pages of this book you will fi nd time-honoured traditions, recipes and sensible advice on how to avoid the worst of the commercialism and make the occasion what you want it to be."
Lucya Starza, author of Pagan Portals – Candle Magic

Pagan Portals: Have a Cool Yule by Melusine Draco and published by Moon Books : ISBN 978 1 78535 711 4 : UK£6.99 : US$10.95 : 82 pages ; paperback and e-book editions.
.