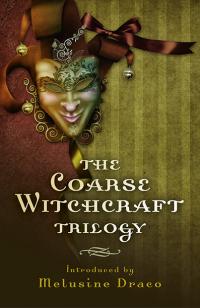 These were two of Ignotus Press's best-selling titles back in the day and now that our own Coven is going back to its sabbatic roots, these memories are even more relevant. We will, of course, remain a teaching coven on a newcomer's level because it's basically a good introduction to traditional British Old Craft but behind the scenes, things will be changing. After years of talking about it, we have recently published a Coven of the Scales grimoire for our Elders but The Coarse Witchcraft Trilogy is the nearest outsiders are going to get to how an Old Craft coven works. The two genuine covens were/are uncomfortably similar in as much as things go wrong, the Magister's irascible , the Dame long-suffering and the members come from all walks of life.

Coarse witchcraft, by definition, is a spoof on bad Craft practice, parodying clichés, every kind of misplaced dramatic performance and Circle disaster. These three books, each with its own mix of disaster and hilarity, take their name from journalist Michael Green's coarse acting/rugby treatment, resulting in a chaotic catalogue in which everything that can go wrong in the Circle does so. But as esoteric author and long-time chum, Alan Richardson, said of the book: 'Coarse Witchcraft made me laugh out loud in more than a few places. In fact, I think it is the first book of its kind; although it pokes fun at modern excesses and can laugh at itself, it still manages to teach the real stuff at a very high level.'

It's been said that Coarse Witchcraft is like Marmite – you either love it or hate it. And many of those who love it have taken to CoS teaching like the proverbial familiar to the broomstick! No … we don't suffer fools gladly but we do go out of our way to help genuine seekers who demonstrate an aptitude for Old Craft ways. Yes … the Tradition is idiosyncratic but then we do have a foot in the dim and distant past and do not abandon ancient customs in favour of more contemporary observances. Because we understands that contact with these old energies may be established more completely through customs that are so ancient that they have had time to firmly entrench themselves in the vast storehouse of the ancestral subconsciousness.

"I think the Coarse Witchcraft Trilogy should be compulsory reading for anyone wishing to study Old Craft," said our Dame with a grin. "The stories and the characters are real with very little embellishment but it does give a valuable insight into an Old Craft mindset." MD

The Coarse Witchcraft Trilogy by Rupert Percy and Gabrielle Sidonie. Introduced by Melusine Draco and published by Moon Books : ISBN 978 1 78279 285 7 : UK£10.99/US$18.95 : 254 pages
​.