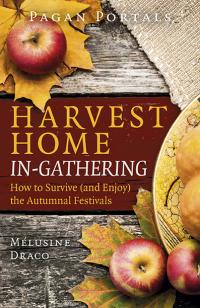 Re-claiming the Seasonal Festivals
A large number of the customs and traditions that were an integral part of traditional British Old Craft have systematically disappeared beneath assiduously applied buckets of pagan white-wash in recent years. In fact, the whole
raison d'être
for the 'how to survive (and enjoy) the seasonal festivals' came from the annual lament of how much pagans hate Christmas. How all the traditional meaning has been profaned and announcing that they will be holed up in solitary misery until all the commercially decadent festivities are over – all of which sadly demonstrated a complete lack of awareness concerning our pagan ancestry and its customs. Let's understand one thing before we go further: the Church did not invent the Mid-Winter Festival … it was there with all its rich pageantry of feasting and celebration long before a Pope officially decreed, in the 4th century AD, that the birth of Jesus would henceforth be celebrated on the 25th December!
And if we closely examine all the other seasonal events in the Church calendar, we discover most of those had been absorbed into the catalogue of Christian observance. If we take away the agrarian events, pre-Christian festivals and pagan saints' days, there's little remaining on which to build an authentic religious calendar. The early Church calendar was wholly pagan in its compilation and within Old Craft we still call our main festivals by their Church names: Hallowmas, Candlemas, Lammas, Michaelmas, Martinmas … and by which names they would have been known to our pagan forebears rather than the popular Irish-Gaelic names adopted in the 20th century.
Hallowmas, Samhain and all that …
Halloween may be a secular affair today, dominated by candy, costumes and trick-or-treating, but the holiday is rooted in an annual Celtic pagan festival called
Samhain
(pronounced 'SAH- wane') that was then appropriated by the early Church some 1,200 years ago. Halloween's origins date back to this ancient festival with the Celts, who lived 2,000 ago in the area that is now Ireland, Britain and northern France – and celebrated their new year on 1st November. This day marked the end of summer and the harvest; the beginning of the dark days of winter that was associated with human death.
Traditionally,
Samhain
was a time to take stock of the herds and food supplies.
Cattle
were brought
down
to the winter
pastures
after six months in the higher grazing. This centuries-old tradition today still parades thousands of bovines from mountain pastures back home to foothill farms.
Published by ignotus books uk in the Arcanum series : ISBN 978 1 80302 514 8 : 104 pages : £6.85 : Order direct from printer https://www.feedaread.com/books/Halloween-Samhain-and-all-that.aspx Available in paperback and Kindle e-book format.
Harvest Home: In-Gathering
Michaelmas, or the Feast of Michael and All Angels, is celebrated on the
29th of September
every year. As it falls near the Equinox, the day is associated with the beginning of autumn and the shortening of days; in England. It used to be said that harvest had to be completed by Michaelmas, almost like the marking of the end of the productive season and the beginning of the new cycle of farming. It was the time at which new servants were hired or land was exchanged and debts were paid. As Michaelmas is the time that the darker nights and colder days begin – and we edge into winter – the celebration of Michaelmas is associated with encouraging protection during these dark months. It was believed that negative forces were stronger in darkness and so families would require stronger defences during the later months of the year. Traditionally, in the
British Isles
, a well fattened goose, fed on the stubble from the fields after the harvest, is eaten to protect against financial need in the family for the next year.
Today in many European countries, the Martinmas festival culminates in a lantern walk at night, followed by a bonfire and songs. Traditionally the lanterns were carved out of harvested gourds, and illuminated with a candle - the origin of our jack-o-lantern - but can also be made of paper or jars. The sacrifice and shedding of blood on this day was once part of the ancient festival of
Samhain
, but changed in the medieval period to the new date of 11th November, hence the term Old Halloween and what we currently observe as Remembrance Day for honouring our war dead.
Published by Moon Books as part of their Pagan Portals series. ISBN978 1 803341 110 1 : 84 pages : £6.99 : Order from www.moon-books.net in paperback and e-book format.
Have a Cool Yule
The pagan celebration of the winter solstice is known as Yule, and it's one of the oldest winter celebrations in the world. It simultaneously celebrates the shortest day of the year, midwinter, the return of the Sun, and a festival of rebirth.
We only have to scratch the thin veneer of 'Christmas' to find a highly important pagan holiday with the majority of its ancient traditions preserved intact. Strangely, the ubiquitous pagan Wheel of the Year' now assigns the Winter Solstice to the place of a minor sabbat, and yet as we've discovered, it was probably the most sacred festival of the year for our pagan ancestors. Nevertheless, these associations reveal that the Mid-Winter Festival was a time of magic and mystery for the ancient Britons, the Germanic tribes and the migratory Celts and Anglo-Saxons, as well as a time for feasting and celebration. It doesn't matter where we live in the New or Old World, it would be a pity to ignore these facts and not celebrate the season with mirth and merriment as our forebears did – and not let Christian hype and gross commercialism ruin the true magic of the Winter Solstice. Perhaps it's time to embrace the pagan sacredness of the Mid-Winter Festival and reclaim that which was taken from us by the most insidious of means – absorption!
Remember, the majority of supposedly 'Christian' superstitions and traditions we observe today are from our pagan past and they probably wouldn't have been preserved down through the ages if all those different Briton, Roman, Celtic, Norse and Anglo-Saxon strands hadn't melded successfully together. When we sit down to our Mid-Winter Festival dinner on December 25th, regardless of whether we're part of a family gathering or spending it alone, we are participating in a ritual that stretches back to the very dawn of humanity. After all… what is there for anyone who calls themselves 'pagan' to hate about ancient pagan traditions?
Published by Moon Books as part of their Pagan Portals series, ISBN 978 1 78535 711 4 : 84 pages : £6.99 : Order from www.moon-books.net in paperback and e-book format
Breath of Spring …
Candlemas/Imbolc is the re-awakening of the Old Lass within Old Craft belief and also coincides with the Roman Candelaria and Fornicalia - a spring corn festival celebrated in honour of Fornax, goddess of ovens, and observed by each ward of the city. All this merging of primitive origins and rites, belonging to the European pre-urban agricultural culture, meant that it also commemorated the search for Persephone by her mother and the festival of candles symbolizing the return of the Light. So it continued to be performed until the Christian era, when it was transformed into Candalmas in AD494.
Our seasonal festivals begin with this
Breath of Spring
… to mark Imbolc/Candlemas on the 2nd February – which in turn marks the official end of the Yule celebrations and a traditional date by when all Yuletide decorations should be removed. Traditional witch, Evan John Jones, acknowledged that Candlemas is the first of the great Sabbats and the start of the ritual year, when it is time to let go of the past and to look to the future, clearing out the old, making both outer and inner space for new beginnings. Followed by the Spring or Vernal Equinox, Ostara and Beltaine to cover the months of spring before we prepare for the summer season ...
Living a pagan life-style is more than celebrating the eight important fire festivals each year and calling ourselves a witch. It's about observing the continuous calendar of events that may, or not, coincide with the civil calendar.
Published by Moon Books as part of their Pagan Portals series. ISBN 978-1-80341-188-0 : 84 pages £6.99 : Order from www.moon-books.net in paperback and e-book format
Sumer Is Icumen In …
In Sumer is Icumen In we discover new and exciting ways of surviving (and enjoying) the truly pagan excesses of the Midsummer Festival. Here we can establish and instigate a new smorgasbord of traditions of our own for the purpose of celebration and observance and, in time, even though we must never lose sight of our authentic history, they may even be integrated into future pagan revels. "So, you want to know about Midsummer? You can't do better than begin here with this treasure-trove of how the summer solstice has been – and still is – revered all around the world. Melusine Draco is a fountain of knowledge, and wisdom, her books open doors and turn on lights to so many dark places that have forgotten and/or misremembered for far too many years, centuries even..." wrote Elen Sentier, author of
Merlin, Elen of the Ways
and
Trees of the Goddess
.
The Summer Solstice is the longest day in the northern hemisphere and either falls on the 20th or 21st of June, whilst Midsummer's Day in Europe is traditionally on 24 June; a discrepancy caused by the variants of the Julian Calendar, misappropriation by the Church and further confused by the introduction of the Gregorian Calendar. Traditionally, Midsummer's Eve is a time associated with witches, magic, fairies and dancing with bonfires lit all over the country. This was in praise of the sun, for as from today, the days would begin getting shorter and the sun gradually appeared to be getting weaker, so people would light fires to try and strengthen the sun. Practice of this ancient ritual, which also includes a Summer Solstice Circle Dance, is now mainly confined to Cornwall and the West Country.
In common with their usual assimilations of pagan festivals, no doubt the Church adapted yet another pre-Christian festival celebrating the Summer Solstice as a Christian holiday by moving back a couple of days. The Midsummer Festival, now with Saint John's Day-related traditions, church services, and celebrations became particularly important in northern Europe. In the pagan community various forms of
neo-paganism
can be quite different, having very different origins and, despite the shared name, these representations can vary quite considerably.
Some celebrate in a manner as close as possible to how they believe ancient pagans observed the Summer Solstice, while others observe the holiday with rituals culled from numerous other unrelated sources.
Published by Moon Books as part of their Pagan Portals series. ISBN 978 1 78535 981 1 : 82 pages : £ 5.99 : Order from www.moon-books.net in paperback and e-book format
Once again, in her own inimitable style, Melusine Draco shows us how to put the tradition back into traditional British Old Craft and restore the practice of our old beliefs by learning how to survive (and enjoy) our own seasonal festivals. These are books we can return to again and again to remind ourselves of our true pagan heritage. Why not treat ourselves to each of these seasonal treats and discover that they make perfect gifts for any of our pagan friends – married or single!
"Melusine Draco opens up the festivals in an engaging, informative and easily accessible way. An enjoyable read, with a mixture of poetry, history and mythology, customs (and even recipes), it builds a fascinating and comprehensive picture of the traditions and festivals, as well as tracing them back to their roots. MD really knows her craft and touches on things like the seasonal effects on the various star signs, while rich descriptions of solar alignments and folkloric practices keep you turning the pages. This will add inspiration to building your own traditions. Definitely for my bookshelf." Krystina Sypniewski, author of Pagan Portals -
Dream Analysis Made Easy
​.